Celebrating 10 years of leading the webcam chat arena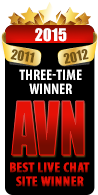 Two-time in a row winner at the "Oscars of Porn"

Two-time in a row winner of the YNOT Award for Best Webcam Company
July 24, 2014
First night
I am starting tonight. I am looking forward to being here and meeting great people.
ChanceMyers
July 24, 2014
Thank you. I love you guys, ImLive
You treat me like a queen! You're amazing and I will continue to enjoy and adore you all.
ashleymanhattan
July 6, 2014
Great Site!
I can`t imagine working online for any other cam company! Great tools, fantastic traffic, and ImLive treats its members and models awesome! Thanks! SweetTara4u
SweetTara4U
June 12, 2014
GOING 3 YEARS STRONG!
Have been a webcam model for ImLive for almost 3 years and I LOVE IT!!!!! I got a shirt, bracelet, and scarf from u guys. THANKS I REALLY APPRECIATE IT!!
TSDanika
June 7, 2014
Mwahhhh!!!
Hosting on ImLive is a deep passion of mine. To be a model, it takes more than just pretty face. I think being here is an expressive art form and tells a story without words. You can show movement in a still picture, and I think that is incredible, to be able to have that skill.
AnnahitaJo
May 28, 2014
I love you ImLive :)
Today I got gift from you - a T-shirt & bracelet... I am impressed. :) Thank you very much.... love youuuuu. :)*
DimpleChin
May 16, 2014
In love...
Imlive was and is still my first love. The last time I was online, you kept surprising me in a good way :) Keep it like this guys. :)
marryecellesta
May 15, 2014
"Love is in the air!"
Lovely atmosphere, amazing! Thank you for everything. You`re the best! Leona
LeonaQueena
April 20, 2014
Have to tell you
I simply love you :* :* :*
DimpleChin
April 15, 2014
ImLive is the best!
I have previously worked has a web cam model on other websites. I was making a lot of money at first then pouff nothing anymore. I started looking around the web for a similar website and found ImLive.com. At first I was skeptical about the site and how much money I could make. I have to admit that the other websites have not seen me log in since last month. They do not give me half of the features and profits that ImLive gives me. I am a faithful hostess ;) I love you ImLive!
MissDream92