Celebrating 10 years of leading the webcam chat arena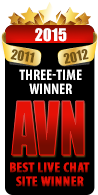 Two-time in a row winner at the "Oscars of Porn"

Two-time in a row winner of the YNOT Award for Best Webcam Company
August 19, 2014
:)
We love ImLive! Here are the nicest and hottest guys!!! We love being your slave and doing what u like! Kisses
HornyCpl666
August 15, 2014
ImLive
It's so great working for ImLive; people are friendly and I get to meet new people everyday!
rainbowtart
August 3, 2014
Great job,ImLive
I have worked here for 8 years.I cannot stop working with you, ImLive. Thank you for the amazing colaboration
NATURALXXLTITS
July 29, 2014
Thank you, guys!!
I love being a part of ImLive! It's fun and I really enjoy being able to work from home. I have a great time and get to express myself in lots of different ways! I honestly think I will be here until I'm too old 'n grey! Also, I have to say, I'm lucky to have the best agent EVER! <3 (You know who you are! You rock) LOTS OF LOVE, NaughtyXxXNikki
NAUGHTYxXxNIKKI
July 24, 2014
First night
I am starting tonight. I am looking forward to being here and meeting great people.
ChanceMyers
July 24, 2014
Thank you. I love you guys, ImLive
You treat me like a queen! You're amazing and I will continue to enjoy and adore you all.
ashleymanhattan
July 6, 2014
Great Site!
I can`t imagine working online for any other cam company! Great tools, fantastic traffic, and ImLive treats its members and models awesome! Thanks! SweetTara4u
SweetTara4U
June 12, 2014
GOING 3 YEARS STRONG!
Have been a webcam model for ImLive for almost 3 years and I LOVE IT!!!!! I got a shirt, bracelet, and scarf from u guys. THANKS I REALLY APPRECIATE IT!!
TSDanika
June 7, 2014
Mwahhhh!!!
Hosting on ImLive is a deep passion of mine. To be a model, it takes more than just pretty face. I think being here is an expressive art form and tells a story without words. You can show movement in a still picture, and I think that is incredible, to be able to have that skill.
AnnahitaJo
May 28, 2014
I love you ImLive :)
Today I got gift from you - a T-shirt & bracelet... I am impressed. :) Thank you very much.... love youuuuu. :)*
DimpleChin