Celebrating 10 years of leading the webcam chat arena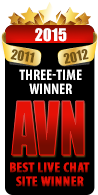 Two-time in a row winner at the "Oscars of Porn"

Two-time in a row winner of the YNOT Award for Best Webcam Company
October 25, 2014
Thanks ImLive!!
I received my tank top, bandanna and bracelet in the mail yesterday. Joining ImLive may be the best decision I ever made... well, besides getting married and kids and stuff :) I'm so happy to be part of such a wonderful site!
ChrissyKitty
October 24, 2014
Thank you ImLive!
I have just got the present from you and I am really happy about it ! I like the way things are here and the way you are challenging me for more... Thank you !
Tanya025
October 15, 2014
JUST TO SAY THANK YOU
FROM A HUMBLE HEART OF AN AFRICAN WOMAN. YOU GUYS, WHAT U HAVE DONE TO MY LIFE IS MORE THAN ENOUGH. WORDS CANNOT EXPLAIN HOW GRATEFUL I AM AS A GRADUATE WHO COULD NOT GET A JOB FOR 7 YEARS. I WAS GOING THROUGH HELL AND DEPRESSION. IT WAS KILLING ME UNTIL A FRIEND INTRODUCED ME TO YOU. THIS IS WHEN U BROUGHT LIFE AGAIN TO ME! I THANK U, IMLIVE, FOR SAVING MY LIFE.
Afrogodesssxx
September 17, 2014
Ohh
Nice site :)
RickyEros
September 16, 2014
Second home!
LOVE this site very much!:):)
AlisaBB88
September 10, 2014
Thanks!!
I lost my job of 7 years and our family of 5 couldn`t survive on my husband`s income alone. I wish I would have started ImLive right away because I`m making as much as I was at my old job. I have actually turned down multiple job offers because I make so much being a video host. Now, my husband and I have a couple account as well. Thank you, ImLive, for getting me out of this slump and allowing me to be my own boss. What better job than to get paid to masturbate? :)
ChrissyKitty
August 31, 2014
Super sexy!!!
ImLive is super sexy!! Irresistible!! Been here 10 years now and all I can say is..... Addiction!!
Addicted2Sin
August 19, 2014
:)
We love ImLive! Here are the nicest and hottest guys!!! We love being your slave and doing what u like! Kisses
HornyCpl666
August 15, 2014
ImLive
It's so great working for ImLive; people are friendly and I get to meet new people everyday!
rainbowtart
August 3, 2014
Great job,ImLive
I have worked here for 8 years.I cannot stop working with you, ImLive. Thank you for the amazing colaboration
NATURALXXLTITS